Are anxiety and depression keeping you from working and earning some extra money? When we're dealing with our mental health, and we have nowhere to turn to, we often end up on the internet. What a great place that is, right?
The question we all ask ourselves is: What alternatives are out there for making money online?
If you're a writer looking for some high quality-good paying jobs, I invite you to read my review on Writing to Wealth.
What is Writing to Wealth?

What do they offer?
Writing to Wealth is a website in which it provides you with a full job opportunity. Companies and sometimes even bloggers just want other people to write for them. They also want someone with a diffferent perspective, to take on their personal experience and knowledge onto the topic they're asking you to write.
So, what this company does is provide you with an extensive directory of writing job offers that you may apply to.
Once you sign up and become a member you can:
• Work from home, or anywhere you may like
• Set your own working hours
• Be specific with the topics that you may want to write about
• Earn an extra income
And the best thing is that you're working online. Meaning that you don't have to deal with your clients on a face-to-face type of scenario
Of course, there are also some requirements
Do you meet all of their requirements?
Is This For Everyone?
I am not going to give you any false hopes, so let'I get this out! Writing to Wealthy it's not for everyone. Of course, they're making it seem like anyone can join and start applying for jobs, but it's not that simple. If you're a professional writer, or have some knowledge when it comes to writing big things, then this platform is going to be easy for you. If that's not the case, I recommend you working on your writing skills, mastering them as much as you can, and then come back with a polished writing style.
Keep in mind, these are actual people and companies that are going to hire you for the skills you provide. If they don't like something, even if you spent hours, or even days writing it, they won't accept it.
The Good & the Not So Good
I think we can all agree that every product or service has it's good things and it's bad things, right? If you've gotten so far into this review then you may be considering joining this platform. I don't want to just tell you all the good and fun parts about it, but instead I also want to share with you some of the things that I personally did not like about Writing to Wealth.
PRO #1: You can actually apply for the job that you want. If you want to review, write blogs, articles, etc it'll be your choice. Once you find the job you'd like to be part of, you will need to submit a piece of your writing to see if you're eligible for this job. Every job that you apply for will need an example of your writing skills.
PRO #2: You can write articles as short as 800 words. Though, do keep in mind that you're not the one choosing how many words you'll write.
PRO #3: Once you start your membership you will also not only be provided with about 1,000 writing jobs to apply for, but you will also get access to these tools that can actually help you improve your writing skills.
Now that we've discussed some of the positive aspects of this program, let'I get into what's not really a good thing for a lot of people. This is only my take on it, but putting myself in your place, I would want to know about the negative things about a product or a service before I actually get my hands on it.
CON #1: If you're not really a writer, nor have much experience, it can be hard and really challenging working for a big company. Usually an article takes me between 1-2 hours to write, another extra hour to edit, and then proofread until I'm certain that I'm actually done. But if you're not familiarized with how blogging, reviewing or proofreading actually works, then it may take you days to actually finish an article.
CON #2: If you're a beginner, as I said, it can be challenging. Especially since the platform does not offer any training besides the resources you first get when you join. That for me is a bummer, especially since I love expanding my knowledge a little more. Therefore, not having a guide to follow can be difficult. But regardless of that, I still think it's a great platform to generate some passive income.
CON #3: I don't know about you, but I sometimes may get a little impatient when it comes to the Internet world. So, if you're like me when it comes to that aspect, then you're going in for a long ride. Keep in mind though, every job application takes time to be reviewed until you can get hired. This platform is no different from that.
Is Writing to Wealth a Scam or is it Legit?
Even though this service comes with its defaults (as absolutely everything in the world), I can say that Writing to Wealth is not a scam. Is a legit company that pays you for all the jobs you manage to take. If you're a starter, you may want to start with simple things such as proofreading articles. Also, try targeting jobs that have a low word count. As you start growing your business you can upgrade your game towards aiming for a higher word count which leaves to more revenue.
Price
The end price is $34 to join this platform.
With that, you will get all the necessary tools and resources to get started.
Why does it have a cost?
They claim that Writing to Wealth doesn't take a percentage of your earnings that you'll make with their writing partners (companies, bloggers, writers, etc). So for that, they charge a small upfront fee to cover their web hosting and customer support team fees.
How much will you get paid?
Well, that dependeds on which job you apply for, and how much experience you have. You can start earning from $10 dollars per article. It can also depend on the amount of words that they're requesting you to write. A higher word count equals a better income.
My Final Thoughts on Writing to Wealth
Now that we've gone through what Writing to Wealth is, let me tell you what my final thoughts are after doing my research to write this article. I came across certain things that made me actually question the service, and I'm gong to break it down to you because I know you're probably asking yourself this, or even wondering if my review is made up or if it's an actual opinion based on research.
Let'I break it down!
• They claim that you can make over $20,000! But, they don't specify exactly on what time frame you'll be making that amount of money. Meaning that this could take weeks, months, or even years.
• Do I recommend It? As i said before, if you're barely starting to write nor have much knowledge, I don't really recommend this as a beginner. Now, if you have the required knowledge and a little experience then go ahead and try this service.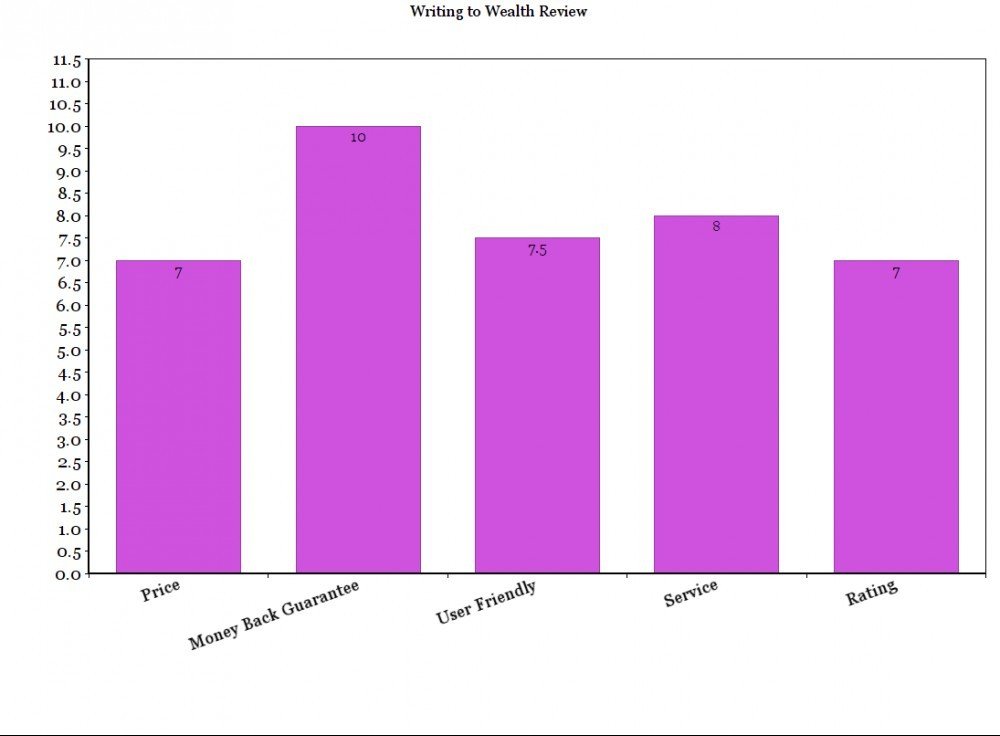 We never really know if something works unless we try it ourselves!
Sign up now and start looking for the right job that fits your needs.