What Are The Benefits of a Massage Chair
As we all know, life can get complicated at times. You probably come home after a whole day of work and you're just exhausted, or maybe you're a single hard-working mother with an overload of stress, how about a college student trying to make it, to yet, another semester, what are the odds that you're an elderly person enjoying life but feeling stressed about life as a whole? Maybe you can't relate to any of the above, that doesn't mean that you're excluded.
It wasn't until I got my first massage chair a couple of weeks ago that I felt like I could finally breathe. I don't work, nor am I a mother, or a college student and I'm barely in my 20s. So, what made me feel this way? What are the benefits of a massage chair? Do you really need one? I'll be answering all that throughout this collection of my sincere thoughts.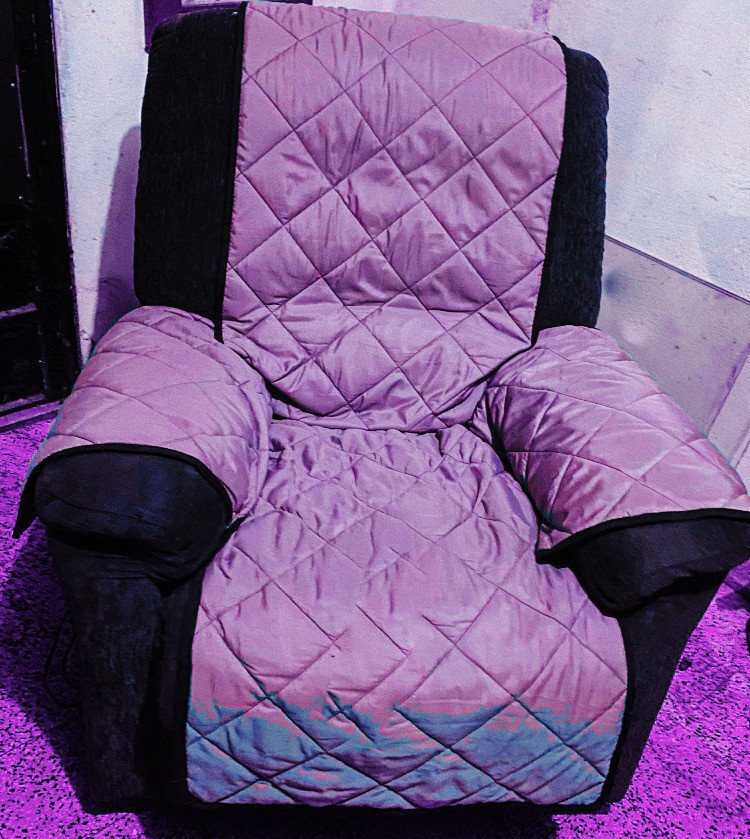 Living With Mental Illnesses and Disability
Throughout my whole life, I was always going through stressful situations. That could include the abuse I suffered while I was growing up, maybe the lifelong traumas that still haunts me; there was always something that was keeping me up at night. Insomnia became one of my dearest and closest friends along with so many other emotional frustrations.
It's not easy, it has never been and I know that it probably won't get better. The only thing one can do is figure out what makes you feel happy. Maybe not happy, some of us don't know how that feels, but figuring out what makes our days feel less weighted and more enjoyable is actually something we can achieve and look forwards to. That can be either by watching a movie, listening to a song or even sitting in the comfort of your home with a massage chair while trying to release all of that extra stress that's keeping you from feeling like you're just not doing enough. Believe me, I've been there.
What Are The Benefits of a Massage Chair?
I'm sure all of us have had those days where we feel like we can't deal with our bodies and our brains, but at the same time we don't know how to manage all of the weight.
Recently, my grandma got herself a massage chair and at first I didn't understand why was that so necessary for her. I mean, why would you want one of those big massage chairs if you can simply sit and relax on any chair or sofa in the house?
After a few weeks I decided to try it myself because I have honestly been dealing with so much stress and anxiety these past few months and I needed to lay down and feel like I had control over my life again, even if it was for a couple of minutes.
I decided to try out that massage chair and these are some of the things that I learned:
It significantly reduced my stress levels and all the tension that was bottled up inside my body.
Since dealing with all of that stress, I've started getting some frequent headaches along with a lot of muscle pain. I am not saying that the massage chair took it all away, but it did made my sore muscles become more relaxed.
I can't say that my headaches are finally gone, but I can say that they have eased a little.
Lastly, the massage chair has also helped me improve my sleeping cycle. I still suffer from insomnia, but the feeling of having your whole body in a relaxed mode it's truly empowering when it comes to a sleeping cycle. At least that's something that improved in me while using this massage chair.
I'm sure that there are a lot of other great benefits of a massage chair, but those are the ones I can actually confirm within my experience.
My Recommendations
Based on my experience with massage chairs, I gathered what I thought was best for those of us who deal with constant stressful situations. I managed to find some of the ones that would work exactly for the way I was feeling, but also something that wasn't too expensive because I know that spending too much money on something can be challenging and sometimes disappointing when you can't get access to what you want. Here you can find something for anyone.
With that said, here are my top 3 recommendations:
1. Esright Massage Recliner Chair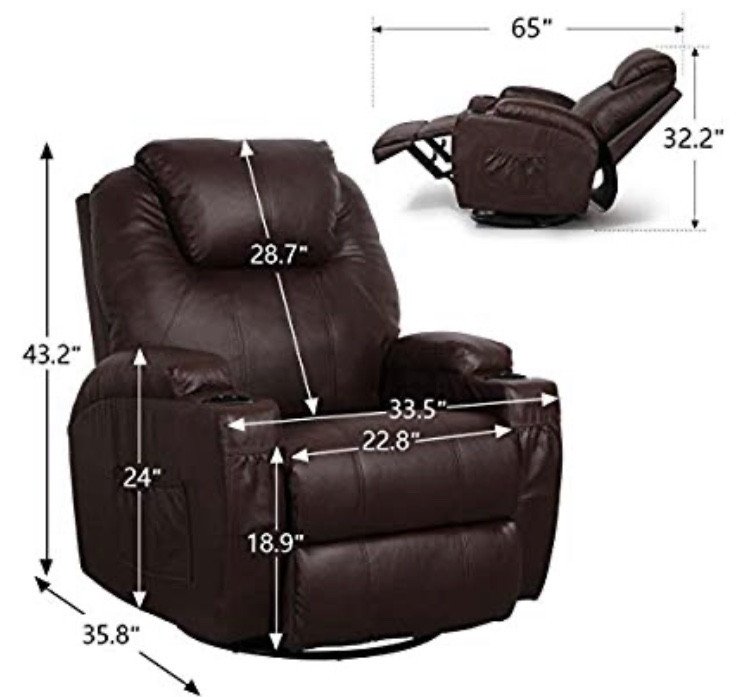 The Esright Massage Recliner Chair is made out of faux leather and it has five relaxing functions.
Reclining
Rocking
Vibration
Heating – In my opinion, one of the best features on a massage chair. Especially if your muscles are sore
And a 360° swiveling feature
This recliner has a 140° manual control recline feature, it comes with the remote controller and power cord. It has also two levels of intensity. On top of that, it is double padded with thick sponges that supports the back and arm area.
It is an amazing and comfortable chair, and for the price, it would be insane not to get your hands on one of these recliners.
2. Furniwell Recliner Massage Chair
Made of High-quality PU leather, padded seat and padded back, footrest is double padded, easy to adjust, but also easy to put together. So easy that it comes in a box of only 3 pieces that'll only take you about 5 minutes to put together and enjoy in the comfort of your home. What's better than that, right? I don't know about you, but I really dislike products that take hours or are really hard to put together. That just takes too much time and energy, not to mention the frustration of not being able to get it done as fast as you would like to.
The package includes:
The recliner
Installation tool
Installation manual
And the installation hardware
Cheaper than the first option and that's because it lacks some of the more modern things such as the maximum capacity, speeds and intensity, but for this price, I don't think that'll be much of a concern.
I don't think you'll find a better deal than this one!
3. truMedic Instashiatsu 3D Massage Chair 
Now, if you're looking for a modest, more luxurious chair, then the truMedic Instashiatsu 3D Massage Chair is the one for you.
With this massage chair you'll earn a lot of money over going to spa's just to get a massage. The truMedic Instashiatsu 3D Massage Chair does it all for you.
You'll get a complete massage over your:
Shoulders
Arms
Waist
And Neck
You can also manage the speed of how you want your massage, the width of it and the intensity. Of course, we can't forget about the heating system, right? It offers a heating option – my personal favorite for sore muscles – and a Bluetooth widget that gives you the opportunity to enjoy your favorite music or a movie if you'd like to, along with a built-in USB port to keep your devices fully charged while you're enjoying your well-deserved massage.
This recliner also includes a unique and wonderful feature that is actually my second favorite after the heating option, and that is the zero gravity recline feature. That means that this chair has the ability to elevate your feet to align them to the same level as your heart. The benefits of this feature goes from relieving lower back pain, reducing anxiety, tension, and stress.
"Choose from shiatsu, rolling, kneading, tapping, and pressing massage functions. The full-body air pressure massage functionality uses strategically placed airbags to create a wave-like motion that compresses, grips, and stretches your muscles."
Now, doesn't that sound like paradise? You can get your very own truMedic Instashiatsu 3D Massage Chair right now! It's not a decision you'll end up regretting, I promise you.